Break-Fast Jam 2016 Eastern Uganda Eliminations
The event was a mix of Hip-hop elements; Dance (Breaking, popping, newstyle), rap and beat-boxing performances, graffiti, competitions/battles, and educational workshops. Check out #BFJ2016EUelims on Twitter, Instagram and Facebook to see live coverage of the event.
HIGHLIGHTS OF THE PROGRAM
Free workshops and teaching by Mukalazi 'Moze Beatboxer' Moses, Bbosa 'Bboy BBosa' Reneus and Faizal 'Mostrixx' Ddamba
Breakdance battle (Seven 2 Smoke).
Popping battle
Beatboxing: performances by Moze Beatboxer.
Rap performances by St. Nellysade, Tandika Esaawa, Uganda Zulu Nation and Blak race.
Dance showcase by: Dream House Uganda.
WINNERS OF BREAKDANCE BATTLES
Seven 2 Smoke: Kutosi 'Bboy Paul Kid' Paul
Special thanks to our sponsors, partners and supporters: US embassy Kampala, Breakdance Project Uganda, Gagawala Graphics, Smart FM, Infinite records, End Of The Weak Uganda, Fresh Lane, Youth Legacy Africa, Ruyonga, the Uganda breaking & Hiphop fraternity.
Photos by: Kibuuka Photography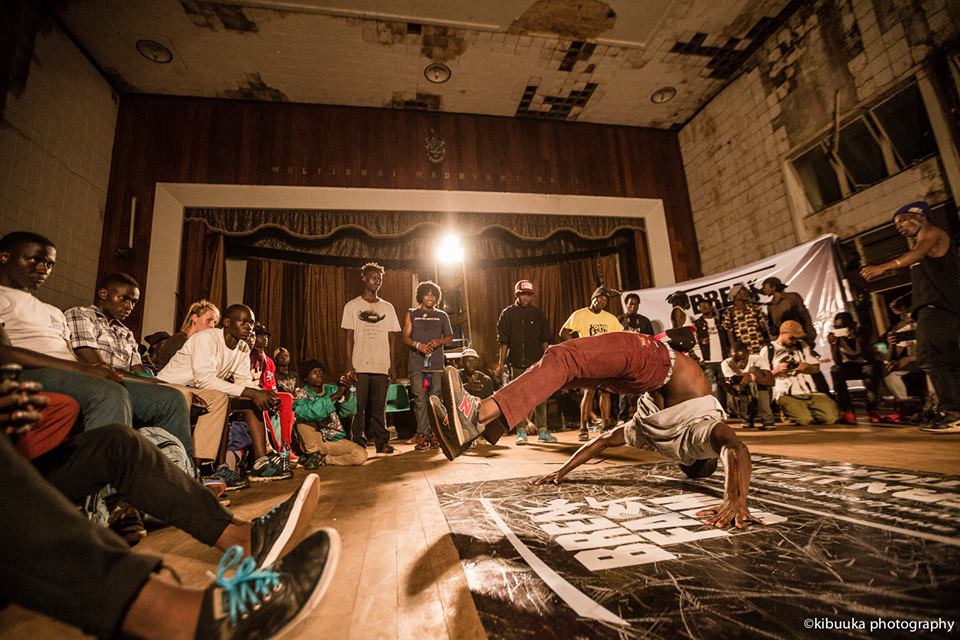 Break-Fast Jam 2016 Eastern Uganda Eliminations

presented by FreshLane
sponsored by Breakdance Project Uganda(BPU), US embassy Kampala, Gagawala Graphics, Smart FM, Infinite records, FreshLane..
Saturday 11th June 2016
Jinja Town Hall (Jinja, Uganda)
2pm until 7pm (Battles & performances)                                                                                                                                   10am – 1pm (Free workshops)
ENTRY: 5000ugx
Free for kids aged 10 and below.
Battles/Competitions: In 2 hiphop dance genres; breaking and popping in categories including, Seven 2 Smoke & Solo Popping(1 on 1).
Free Workshops: knowledge and skills based workshops conducted to educate and equip the practitioners within the Eastern region with knowledge, skills and concepts.
10am until 1pm
HOST:
Jora – Breakdance Project Uganda(BPU), Young Artists Exchange Project(YAEP), Steady Beat Crew, BentLines & Baboon Forest Entertainment.
Dj: Issa & Isaac King.
MORE INFO: www.break-fastjam.com
Be sure to follow us on social media;
TWITTER: @breakfastjam1
INSTAGRAM: @break-fastjam1
FACEBOOK: BreakfastJam
YOUTUBE: Breakfastevents
A press conference with Crazy Legs, Ugandan media houses, Lisa of US Embassy Kampala, partners and sponsors.
Photos by: Kibuuka Mukisa Oscar (Kibuuka photography)
Check links to articles on various media below..
New Vision Online http://www.newvision.co.ug/news/675912-break-fast-jam-5th-dance-finals-set-for-ymca.html
Urban Hype http://urbanhype.net/hip-hop-legend-crazy-legs-to-judge-5th-annual-break-fast-jam-finals-this-weekend/?utm_source=jetpack-sharing&utm_medium=whatsapp&utm_campaign=mobile
HowweBiz http://www.howwe.biz/9347/break-fast-jam-holds-5th-annual-finals-at-ymca.html
Chano8 http://chano8.com/the-break-fast-jam-5th-edition-dance-competition-unveiled/
BigEye http://bigeye.ug/break-fast-jam-to-hold-5th-annual-finals-at-ymca-this-weekend/#sthash.Q2sa530n.dpuf
Campus Bee http://campusbee.ug/proggie/back-with-a-bang-the-break-fast-jam-finals-2015-are-here
Photos by: Kibazzi Pius (Kibazzi photography).
MORE INFO: www.break-fastjam.com
presented by FreshLane
Be sure to follow us on social media;
TWITTER: @breakfastjam1 | INSTAGRAM: @break-fastjam1 | FACEBOOK: BreakfastJam  | YOUTUBE: Breakfastevents