BREAK-FAST JAM 2018 EASTERN UGANDA ELIMINATION
Saturday 9th June / Jinja Town Hall / 2pm until 8pm. (Doors open at 2pm and battles start at 4pm).
ENTRY: 5000ugx and free for kids aged 10years and below.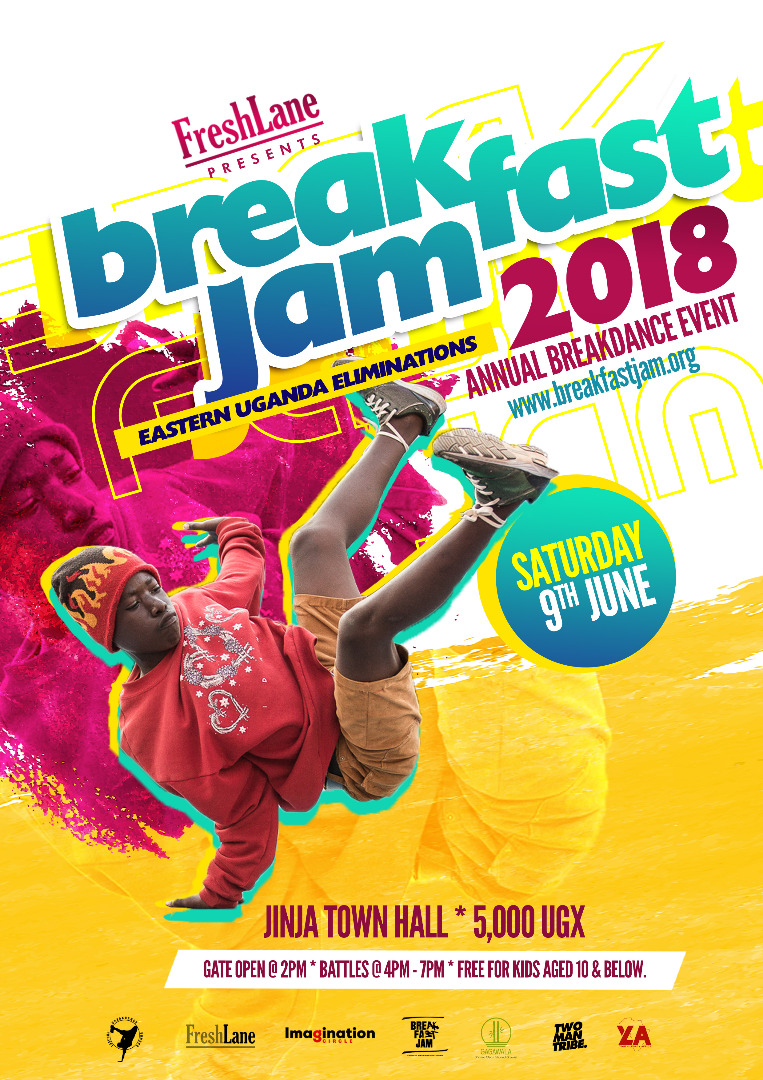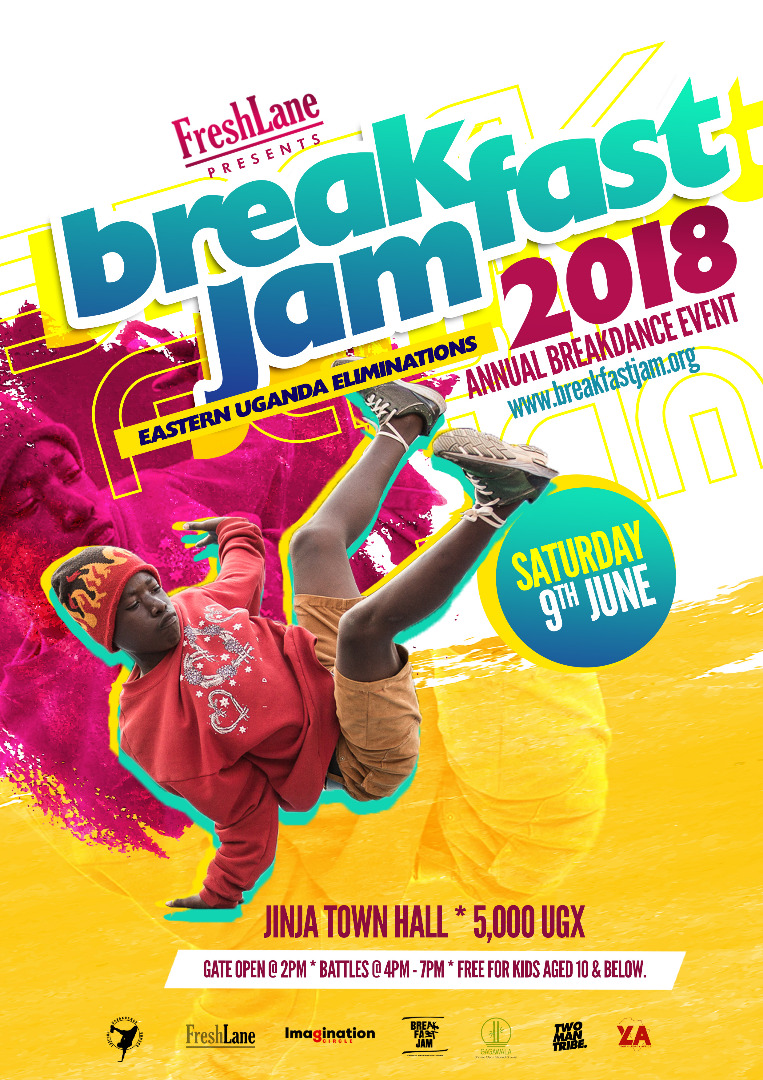 Since 2012, we have been holding elimination event in Jinja city for Breakdancers & poppers from around the Eastern Uganda region, and also an opportunity for practitioners of other hip-hop dance styles and elements to exhibit their skills at the Break-Fast Jam platform. Further, Break-Fast Jam has been a united the hiphop practitioners plus fans under one roof.
BATTLE CATEGORIES: Breaking (1 on 1 into Seven to smoke) and Popping (1 on 1).
More info www.breakfastjam.org
https://web.facebook.com/events/1796616757314005/
Presented by FreshLane
FreshLane,  an initiative working to empower young people socially and economically through   cultivating and elevating art, culture, education and facilitating creative development. Comprised of members of  Breakdance Project Uganda (BPU).
BREAK-FAST JAM 2017 FINALS
Sat 18th – Sun 19th November 2017.
YMCA Wandegeya (Kampala – Uganda)
Entry: 10,000ugx per day.
Free for kids aged 10yrs and below.
To participate or sponsor please inbox us or email admin@breakfastjam.org
Guest: Sune Peterson (Floor Wars/Break point, Denmark), Dj Snuff (End of the weak, UK), Ryo Anijha (FreshSox, Japan).

JUDGES
Break-Fast Jam Finals 2017 // presented by FreshLane
More information here. Please share with a friend and stay tuned for more info.
Battle Categories
Seven 2 Smoke (8 breakers)
Solo Breaking battle for adults (8 breakers)
Solo kids battle – breaking (8 breakers)
Solo Bgirl battle (8 breakers)
Solo popping battle (8 poppers)
3 on 3 crew battle – Breaking (8 breakers)
SEVEN 2 SMOKE
Bboy Umar Xperience – Eastern Uganda eliminations winner
Bboy Yusuf – Central Uganda eliminations winner
Remaining 6 slots will be direct invites – to be announced soon.
SOLO BREAKING BATTLE FOR ADULTS
All will be wild cards – to be announced soon
SOLO KIDS BATTLE
Eliminations on day 1 / Saturday 18th Nov
SOLO BGIRL BATTLE
Winner from last year gets a wild card.
Remaining slots to be gained through eliminations on day 1  / Sat 18th Nov
SOLO POPPING
Popper Shakur, winner of Central Uganda eliminations
Popper Shafique Code, winner of Eastern Uganda eliminations
Remaining slots to be battled for on day 1 / Sat 18th Nov
3 ON 3 CREW BATTLE
Hit The Beat Crew, winners of last year get a direct invite.
Remaining crews to be selected at the eliminations on day 1 / Sat 18th Nov
Itinerary for the weekend
Preliminaries 3 vs 3 Breaking Crew Battle
Preliminaries for popping
Preliminary for solo Kids breaking
Preliminary for solo Bgirl
3 vs 3 Quarter, semi and finals
Popping quarter, semi and finals
1 vs 1 kids quarter, semi and finals
1 vs 1 bgirl quarter, semi and finals
Seven 2 Smoke
1 vs 1 breaking adults
New Style hiphop dance ciphers
Powermove ciphers
Individual & crew Dance showcases
Rap & Beatboxing performances
Street wear markets
Food & drinks stores
Live graffiti writing
Parties
And many more…….
We will be featuring artists like
Sylvester Kabombo
Willstone
Holy Dance Crew
Erick Sama
Nemesis
Ibra Buwembo Dance crew
And many more ………
JUDGES –
Abramz (Breakdance Project Uganda & Rock Steady Crew) – Uganda
SoonEnough (Breakpoint/FloorWars) – Denmark
Ryo Anijha (FreshSox/MZK) – Japan
Fullmoon (Hit The Beat Crew) – Uganda
Fahadhi (Hit The Beat Crew) – Uganda
Bboy Neuz (Dream House Uganda) – Uganda
Walter Ruva – Uganda
Sammie Poppings (Pop Lock Funk) – Uganda
Mostrixx (Tabu Flo & Hit The Beat Crew) – Uganda
Dj's
Snuff (Ireland), Issa (Uganda) and more to be announced.
More info to be announced here or  on www.breakfastjam.org
For inquiries call +256773251003 / +256775101122 or email admin@breakfastjam.org
Hiphop For Society is a immensely popular, community event organised by Breakdance Project Uganda(BPU). It takes place every year in January and brings together hundreds of people of all ages and backgrounds to celebrate creativity, talent and community spirit. The event is an exciting combination of live performances, interactive workshops, inspiring speeches, educational discussions, video screenings and photo exhibitions. BPU works in close collaboration with multiple local and international artists and organisations.
This year's theme was 'Dreams' and featured artists and development specialists like; Anne Whitehead, J-Tight & Kakande, Caroline Nantume, Scooter Beatboxer, Interaid Uganda refugee youth, Julius Lugaya, Lilian & Key, Platform Uganda, Joana Jojo & In Movement alumni, Saint-NellySade, People Concern Children's Project(PCCP), Vizurii Dance Crew, In Movement art for social change, Inspirationz dance company, Butterfly Uganda, Khamara Ashnan, Ruyonga, Jora & Young Artists Exchange Project(YEAP), Krump UG, Sylvester & Abramz.
Centrals prelims successfully closed the qualifiers run
Now we can finally check the central prelims off our do list. But first and foremost we would like to thank and commend everyone who has supported since this year's season started. It's been a bit of bumpy road – not to mention a length one – but we're glad that we can now say that the final segment of the season is just round the corner. 22 and 23 November will be the days to sum-up this year's edition. We would like to urge everyone, breaker or not, to come out and celebrate and experience the art of breaking as its being embodied in its truest form by some of the most deft in the region. Some of the best breakdancers from across East-Africa, Tazania, Kenya and Uganda, will be around to exhibit their prowess and that's definitely going to be a spectacle that you wouldn't want to miss out on.
The central prelims took place last Sunday at Sharing Youth Center Nsambya and they were quite a success. 30 breakers signed up and at the end of the battle b-boy Sono, of the Hit The Beat crew, won becoming one of the competitors who will be jostling for the '7 to Smoke' title at the final event.
See you all at the finals. Stay tuned!
A recapitulation from the weekend we spent in Nairobi
In our archives, last weekend will definitely pass for legendary. A few days ago we set out on a mission to expand more and officially establish a connection with the Kenyan breaking community: we held the first eliminations in Nairobi which – basing on all the energy and def breaking skills that oozed out of the practitioners – have now aided Breakfast Jam in impressing a new irrevocable footprint on the breaking scene in Africa. Due to the wholehearted gusto expressed by the entire breaking community down there, the event was quite a success and for that we truly commend all the b-boys and the epitomes, Break Session and Take A Break, for the collective support extended to the BFJ organizing team to make it materialize, not to mention succeed.
The weekend was, besides the outrageous one on one and 7 to smoke battles, laden with enriching moments typified with workshops, cyphers and video and photo shoots.
During the workshops b-boy Sono, of the Hit The Beat Crew, and b-boy Abramz, of the legendary Rock Steady Crew blessed the moment with their conceptual approaches to the elements of top-rocking, foot-working and basic and advanced transitioning.
B-boy Omi outgunned his contenders during the one-on-one battle. We are excited that he will be attending the ultimate Breakfast Jam event this coming November. Because of his outstanding performance, we can equally say the same about b-boy Shadow for proving – during the 7-to-smoke battle – he was in a class of his own. On the same note, we would like to commend everyone who signed up for the battles, brought and pumped so much energy into the event. Kenyan b-boys have so much skill, determination and potential and it's only a matter time that they get discovered by the rest of the world.
Bboy Shadow –  SEVEN 2 SMOKE winner
Bboy Omi – 1 on 1 winner
B-boy Akwa (Boom Crew)
"Breakfast Jam is the best thing that has ever happened to the breaking industry in Kenya. See you all on November 22."
Mifwit (Titans all stars, Boom crew)
"Breakfast has always been something that us b-boys in Kenya wanted to experience very much. The eliminations were really nice. And now that we've been with Ugandan b-boys and taken part in their workshops we can't wait to come to Uganda."
B-boy Nasty Guru (Sick Crew)
"I'm grateful to Breakfast Jam for the opportunity, wonderful experience, knowledge and the workshops. We can't wait to meet you guys again. Big-up to Ugandan b-boys. We're looking forward to having another jam and session with you guys"
B-boy Jijo (Titans all stars LD)
"Breakfast Jam has been the best experience ever. I met some of the best b-boys from Uganda. It's been an honor for me."