Break-Fast Jam 2016 Eastern Uganda Eliminations
The event was a mix of Hip-hop elements; Dance (Breaking, popping, newstyle), rap and beat-boxing performances, graffiti, competitions/battles, and educational workshops. Check out #BFJ2016EUelims on Twitter, Instagram and Facebook to see live coverage of the event.
HIGHLIGHTS OF THE PROGRAM
Free workshops and teaching by Mukalazi 'Moze Beatboxer' Moses, Bbosa 'Bboy BBosa' Reneus and Faizal 'Mostrixx' Ddamba
Breakdance battle (Seven 2 Smoke).
Popping battle
Beatboxing: performances by Moze Beatboxer.
Rap performances by St. Nellysade, Tandika Esaawa, Uganda Zulu Nation and Blak race.
Dance showcase by: Dream House Uganda.
WINNERS OF BREAKDANCE BATTLES
Seven 2 Smoke: Kutosi 'Bboy Paul Kid' Paul
Special thanks to our sponsors, partners and supporters: US embassy Kampala, Breakdance Project Uganda, Gagawala Graphics, Smart FM, Infinite records, End Of The Weak Uganda, Fresh Lane, Youth Legacy Africa, Ruyonga, the Uganda breaking & Hiphop fraternity.
Photos by: Kibuuka Photography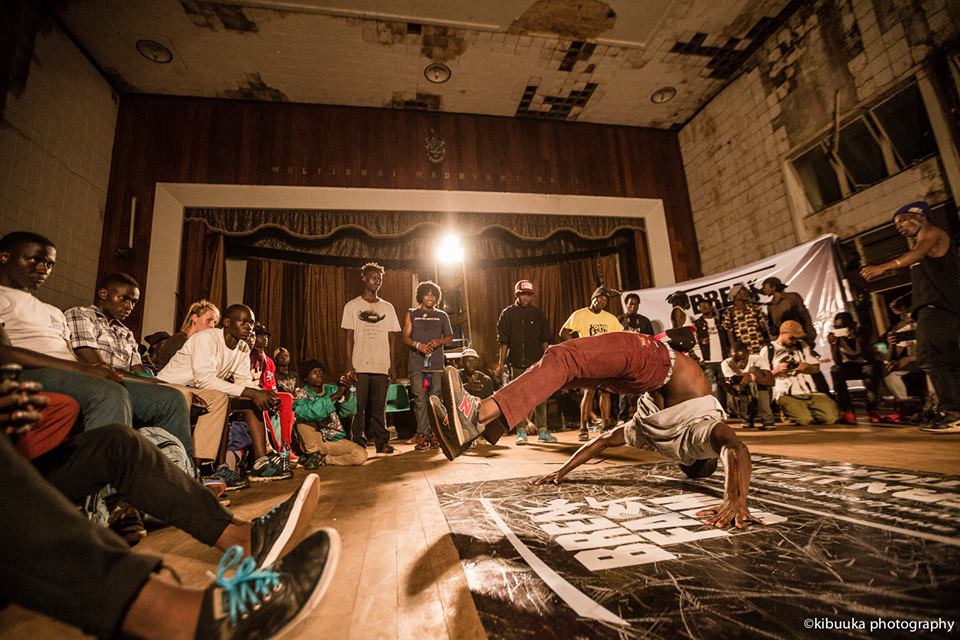 Break-Fast Jam 2016 Eastern Uganda Eliminations

presented by FreshLane
sponsored by Breakdance Project Uganda(BPU), US embassy Kampala, Gagawala Graphics, Smart FM, Infinite records, FreshLane..
Saturday 11th June 2016
Jinja Town Hall (Jinja, Uganda)
2pm until 7pm (Battles & performances)                                                                                                                                   10am – 1pm (Free workshops)
ENTRY: 5000ugx
Free for kids aged 10 and below.
Battles/Competitions: In 2 hiphop dance genres; breaking and popping in categories including, Seven 2 Smoke & Solo Popping(1 on 1).
Free Workshops: knowledge and skills based workshops conducted to educate and equip the practitioners within the Eastern region with knowledge, skills and concepts.
10am until 1pm
HOST:
Jora – Breakdance Project Uganda(BPU), Young Artists Exchange Project(YAEP), Steady Beat Crew, BentLines & Baboon Forest Entertainment.
Dj: Issa & Isaac King.
MORE INFO: www.break-fastjam.com
Be sure to follow us on social media;
TWITTER: @breakfastjam1
INSTAGRAM: @break-fastjam1
FACEBOOK: BreakfastJam
YOUTUBE: Breakfastevents
Phots by: Kibuuka Mukisa Oscar (Kibuuka photography).
Hiphop For Society is a immensely popular, community event organised by Breakdance Project Uganda(BPU). It takes place every year in January and brings together hundreds of people of all ages and backgrounds to celebrate creativity, talent and community spirit. The event is an exciting combination of live performances, interactive workshops, inspiring speeches, educational discussions, video screenings and photo exhibitions. BPU works in close collaboration with multiple local and international artists and organisations.
This year's theme was 'Dreams' and featured artists and development specialists like; Anne Whitehead, J-Tight & Kakande, Caroline Nantume, Scooter Beatboxer, Interaid Uganda refugee youth, Julius Lugaya, Lilian & Key, Platform Uganda, Joana Jojo & In Movement alumni, Saint-NellySade, People Concern Children's Project(PCCP), Vizurii Dance Crew, In Movement art for social change, Inspirationz dance company, Butterfly Uganda, Khamara Ashnan, Ruyonga, Jora & Young Artists Exchange Project(YEAP), Krump UG, Sylvester & Abramz.
A recapitulation from the weekend we spent in Nairobi
In our archives, last weekend will definitely pass for legendary. A few days ago we set out on a mission to expand more and officially establish a connection with the Kenyan breaking community: we held the first eliminations in Nairobi which – basing on all the energy and def breaking skills that oozed out of the practitioners – have now aided Breakfast Jam in impressing a new irrevocable footprint on the breaking scene in Africa. Due to the wholehearted gusto expressed by the entire breaking community down there, the event was quite a success and for that we truly commend all the b-boys and the epitomes, Break Session and Take A Break, for the collective support extended to the BFJ organizing team to make it materialize, not to mention succeed.
The weekend was, besides the outrageous one on one and 7 to smoke battles, laden with enriching moments typified with workshops, cyphers and video and photo shoots.
During the workshops b-boy Sono, of the Hit The Beat Crew, and b-boy Abramz, of the legendary Rock Steady Crew blessed the moment with their conceptual approaches to the elements of top-rocking, foot-working and basic and advanced transitioning.
B-boy Omi outgunned his contenders during the one-on-one battle. We are excited that he will be attending the ultimate Breakfast Jam event this coming November. Because of his outstanding performance, we can equally say the same about b-boy Shadow for proving – during the 7-to-smoke battle – he was in a class of his own. On the same note, we would like to commend everyone who signed up for the battles, brought and pumped so much energy into the event. Kenyan b-boys have so much skill, determination and potential and it's only a matter time that they get discovered by the rest of the world.
Bboy Shadow –  SEVEN 2 SMOKE winner
Bboy Omi – 1 on 1 winner
B-boy Akwa (Boom Crew)
"Breakfast Jam is the best thing that has ever happened to the breaking industry in Kenya. See you all on November 22."
Mifwit (Titans all stars, Boom crew)
"Breakfast has always been something that us b-boys in Kenya wanted to experience very much. The eliminations were really nice. And now that we've been with Ugandan b-boys and taken part in their workshops we can't wait to come to Uganda."
B-boy Nasty Guru (Sick Crew)
"I'm grateful to Breakfast Jam for the opportunity, wonderful experience, knowledge and the workshops. We can't wait to meet you guys again. Big-up to Ugandan b-boys. We're looking forward to having another jam and session with you guys"
B-boy Jijo (Titans all stars LD)
"Breakfast Jam has been the best experience ever. I met some of the best b-boys from Uganda. It's been an honor for me."