9th annual BREAK-FAST JAM, breakdance event.
Date: Saturday 16th – Sunday 17th November 2019.
Venue: YMCA Wandegeya, Kampala -Uganda.
Time: 3pm (doors open) / 5-8pm (action). Entry: 10,000ugx per day.
FRESHLANE'S Break-Fast Jam is an annual breakdance and urban culture event nurturing and promoting the scene in East Africa. The event originated in Uganda in 2011 and has does events in Uganda and Kenya, and hosts participants from various parts of the world.
Now in it's 9th year, East Africa's most exciting breakdance & old school dance styles, hip-hop and urban culture event, The 9th annual Break-Fast Jam Finals, to be held in Kampala, Uganda at YMCA Wandegeya on November 16th -17th. The two-day event will feature exciting teams and solo breakdance and popping battles, free workshops, rap, Beat-boxing/vocal percussion, exhibitors & hip-hop vendors, Djing, traditional drumming, live graffiti mural painting among other activities.
Dancers of both genders and various age brackets will compete. This year's edition is gathering participants from Finland, Canada, German, Belgium, UK and East African community.
Sponsored by: Breakdance Project Uganda, Talent Africa, Imagination Circle, Viva Con Agua Kampala, Up Gradez, Dukem Ethiopian restaurant, Safari Vibes, Cypher Code Japan and organized by FreshLane.
For inquiries: +256775101122 (Mark) | +256773251003 (Joram) | +256758346768 (Oscar)
breakfastevents@gmail.com
Twitter: @Breakfastjam1 | Instagram: @Breakfastjam1 | Facebook: BreakFastJam
https://www.facebook.com/BreakFastJam
8th Annual BREAK-FAST JAM Finals 2018 // presented by FreshLane
Sat 17th-Sun 18th November // YMCA Wandegeya, Kampala // 3pm-9pm each day / 10,000ugx entry per day and free for kids aged 10yrs and below.
Battles, workshops, showcases, performances, exhibitions, Live graffiti, Rap, Bboys, Bgirls, Dancers, Djs, Hip-hop.
BATTLE CATEGORIES
Seven 2 Smoke (8 breakers)
Solo Breaking battle for adults (8 breakers)
Solo kids battle – breaking (8 breakers)
Solo Bgirl battle (8 breakers)
Solo popping battle (8 poppers)
3 vs 3 crew battle – Breaking (8 breakers)
2 vs 2 Footwork battle (4 teams)
SEVEN 2 SMOKE
1.Saman (winner Eastern Uganda eliminations) – Uganda
2.Bboy Mocca (winner Central Uganda eliminations) – Uganda
3.Bboy Bbosa (wildcard) – Uganda
4.Johnson (wildcard) – Tanzania
5.Kiwembe (wildcard) – Rwanda
6.Poekid (wildcard) – Uganda
more 2 to be announced soon.
SOLO BREAKING BATTLE FOR ADULTS
All competitors by wildcard
1.Erick Sama (Uganda)
2.Umar Xperience (Uganda)
3.Bgirl Joan (Uganda)
4.Bboy Jijo (Kenya)
5.Bboy Obi 1 (Finland)
More 3 to be announced…
SOLO KIDS BATTLE
Eliminations on day 1 / Saturday 17th November
SOLO BGIRL BATTLE
1.Bgirl Jojo (Winner from last year gets a wild card).
Remaining slots to be gained through eliminations on day 1 / Sat 17th November
SOLO POPPING
Popper Salvador Alongi, winner of Central Uganda eliminations
Popper Weekend, winner of Eastern Uganda eliminations
Remaining slots to be battled for on day 1 / Sat 17th November
3 ON 3 CREW BATTLE
Spot Lite Crew, winners of last year get a direct invite.
Remaining crews to be selected at the eliminations on day 1 / Sat 17th November
DJ LINE UP
1.Dj Snuff (Irelad)
2.Dj Issa (Uganda)
3.Dj Maintain (UK)
4.DJ Bent (Uganda)
ACTIVITIES THROUGH OUT THE WEEKEND
Workshops
Preliminaries 3 vs 3 Breaking Crew Battle
Preliminaries for popping
Preliminary for solo Kids breaking
Preliminary for solo Bgirl
3 vs 3 Quarter, semi and finals
Popping quarter, semi and finals
1 vs 1 kids quarter, semi and finals
1 vs 1 bgirl quarter, semi and finals
Seven 2 Smoke
1 vs 1 breaking adults
Rep your village all vs all battle
New Style hiphop dance ciphers
Power move ciphers
Individual & crew Dance showcases
Rap & Beatboxing performances
Street wear markets
Food & drinks stores
Live graffiti writing
Parties
And many more…….
JUDGES AND FEATURED PERFORMANCES
To be announced
More info to be announced here https://web.facebook.com/events/801233556749542/
For inquiries call +256773251003 / +256775101122 or email breakfastevents@gmail.com
BREAK-FAST JAM 2018 CENTRAL UGANDA ELIMINATIONS.
Happening on Saturday 29th September 2018 at Goethe Zentrum Kampala/UGCS. Entry: 5,000ugx.
Doors open: 3pm, Battles: 5pm until 8pm.
The winners (breaker and popper) this Saturday will join the selected competitors who will be battling at the finals on 17th and 18th November.
More details TBC.
BREAK-FAST JAM 2018 EASTERN UGANDA ELIMINATION
Saturday 9th June / Jinja Town Hall / 2pm until 8pm. (Doors open at 2pm and battles start at 4pm).
ENTRY: 5000ugx and free for kids aged 10years and below.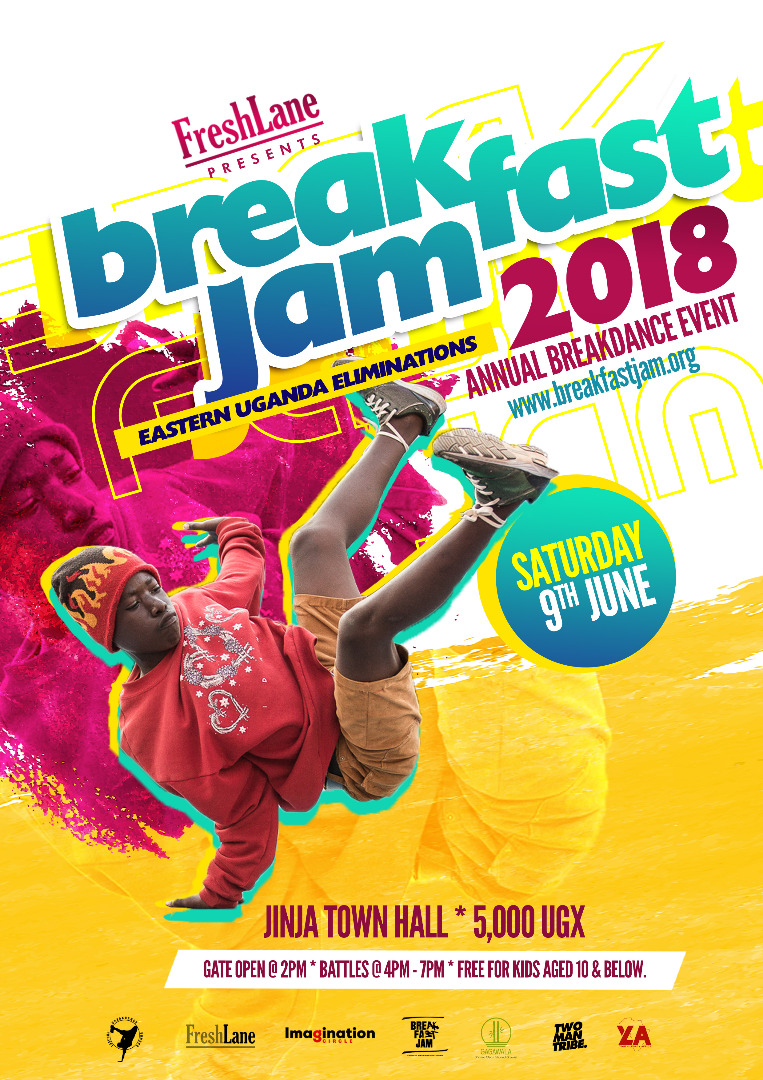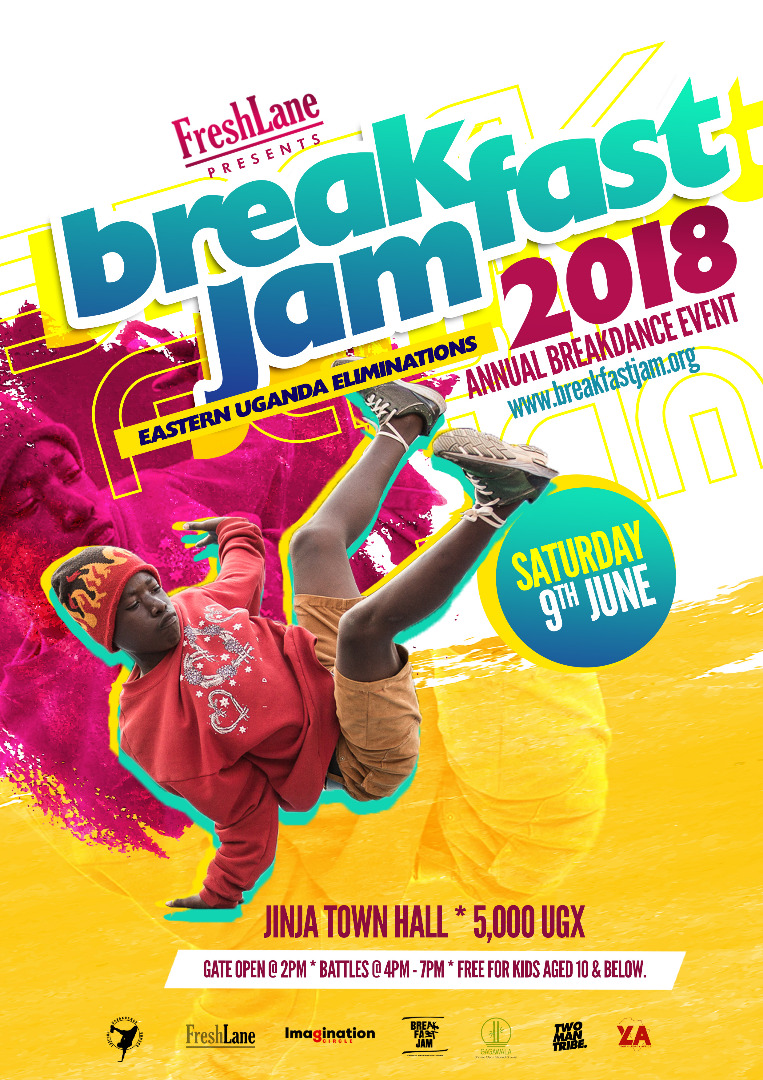 Since 2012, we have been holding elimination event in Jinja city for Breakdancers & poppers from around the Eastern Uganda region, and also an opportunity for practitioners of other hip-hop dance styles and elements to exhibit their skills at the Break-Fast Jam platform. Further, Break-Fast Jam has been a united the hiphop practitioners plus fans under one roof.
BATTLE CATEGORIES: Breaking (1 on 1 into Seven to smoke) and Popping (1 on 1).
More info www.breakfastjam.org
https://web.facebook.com/events/1796616757314005/
Presented by FreshLane
FreshLane,  an initiative working to empower young people socially and economically through   cultivating and elevating art, culture, education and facilitating creative development. Comprised of members of  Breakdance Project Uganda (BPU).
Break-Fast Jam 2017 Central Uganda Eliminations.
Another successful event from FreshLane.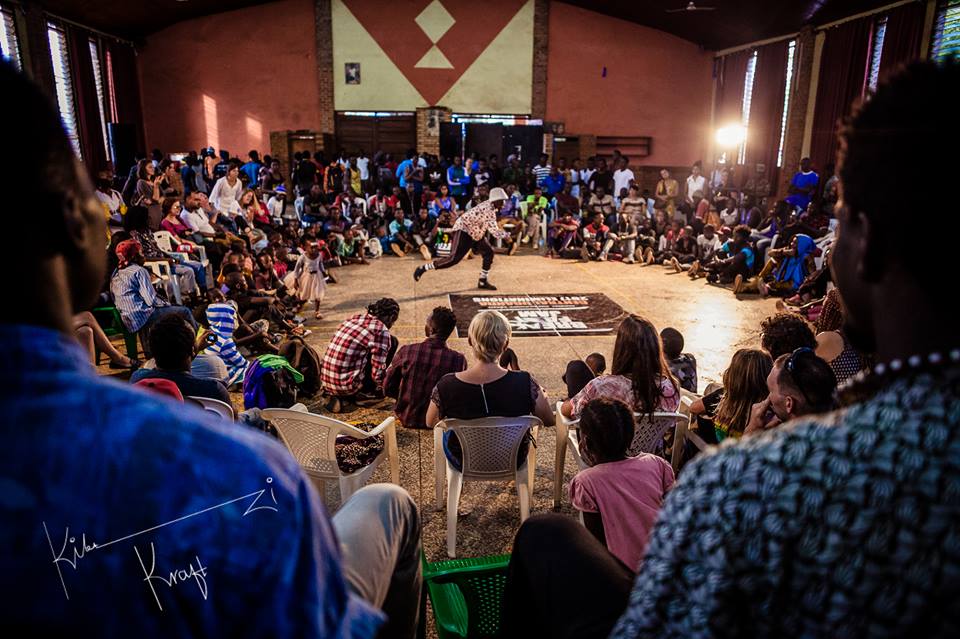 The event was a mix of hiphop elements; breakdance and popping battles, and performances;
Dance by Holy Dance Crew (Goma, DRC),
Rap by Cypher Kabaka, Kongoloko and St.Nellysade,
Beat-boxing by Don King (young member of BPU),
Live graffiti mural painting by Bobd of Inkfamous graffiti crew (South Africa) and Sparrow.
Djing by Dj Issa and Dj Bent.
The main goal of the event was to select the top breakdancer and popper to represent the Central Uganda region at the grand finale on 18th and 19th November in Kampala. Over 100 competitors from Kampala, Mukono, Luwero, Wakiso, Jinja, Buikwe among other places signed up.
Congratulations to Semakula Yusuf  from Mutungo Bbina suburb of Kampala and Isaiah on winning the breaking and popping battles respectively.
The main purpose of this event is to nature and promote the breakdance and hiphop dance scene within the East Africa region.
This was the last Break-Fast Jam preliminary event FreshLane is organizing this year.  They are now working tirelessly organizing the grand finale happening on 18th and 19th November at YMCA Wandegeya, Kampala. So far Dj Snuff (Ireland), Dj Jam Fu(UK), Sune (Denmark), Ryo Anijha(Japan) are confirmed to attend the event a long with participants from within Uganda, Kenya, Tanzania, Rwanda, DRC and more.
More details on these events here www.breakfastjam.org
Check out #BreakFastJam2017 on Twitter, Instagram and Facebook to see live coverage of the event.
SPONSORS AND PARTNERS: Imagination Circle, Gagawala Graphics, Breakdance Project Uganda, Mos Opten and FreshLane.
Photos by Kibazzi Pius